Benefit from small class sizes and experienced tutors with extensive industry knowledge and strong relationships with the local construction industry and professional bodies. There is numeracy, literacy, and technology support for those who require it. Flexible delivery enables students to combine work and study in a two-year program leading to further tertiary study at degree level in construction management, quantity surveying, architectural design or technology, or enter straight into employment.
Employers and consumers can be confident in the quality of the working drawings produced by graduates, as they meet the requirements of the New Zealand Building Act, Codes of Practice, and New Zealand and Australian Standards. Due to the labour shortage in the construction industry, graduates of this program are in high demand.
You will learn how to:
Apply comprehensive knowledge of construction principles and methodology to evaluate design for small and medium building projects in a design, building or construction related environment. - Carry out feasibility studies for small, medium and large buildings.
Establish the clients' requirements, develop and communicate a concept and building design, and prepare approval documentation for a building project in accordance with a clients' brief.
Evaluate the performance of and select materials and finishes to be used in the building process. - Prepare, organise and present architectural documentation for small and medium buildings using manual and digital technologies in accordance with the legislative and regulatory environment.
Apply knowledge of the roles and responsibilities, documentation and administrative requirements, including the tendering process to construction contract management processes.
Apply organisational principles, use digital technologies and industry best practice to communicate effectively with parties to a construction contract.
Entry Requirements
a total of 60 NCEA credits at level 2 including 12 credits in Maths; OR
completion of an appropriate qualification at Level 4
Equivalent knowledge, skills, work experience or study.
Any applicants whose first language is not English may be required to provide evidence of an overall IELTS (Academic) band score of 6 (with no score below 5.5 in speaking, reading, writing and listening) or equivalent.
Special Admission
Applicants must have:
attained the age of 20 years on or before the first day of the semester in which study for the diploma is to commence; AND
have provided sufficient evidence of aptitude or appropriate work or other life experience that would indicate a successful outcome in the qualification.
Discretionary Admission
In exceptional cases an applicant who does not meet the general admission requirements and who has not reached the age of 20 on or before the first day of the semester in which study for the diploma is to commence may apply for discretionary admission.
In assessing whether to grant discretionary admission in exceptional cases, the primary focus will be on the applicant's level of preparedness for study at the requirement level.
In addition, international candidates must meet the minimum English Language entry requirements specified by NZQA.
Additional expenses
PPE needed for your safety
Hi viz jacket
Safety boots - steel capped
NZS 3604
Hard hat
Ear muffs
Students will need to bring their own laptop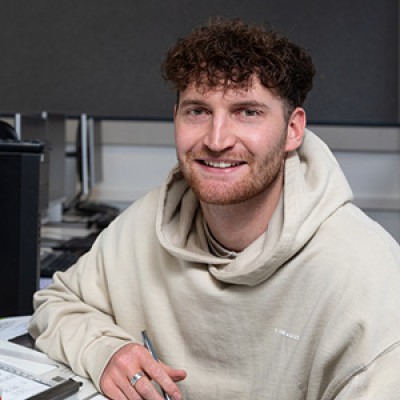 I was wanting to pursue a career in Architectural Technology and after looking at options outside of the region I came across the WITT website and saw it was offered. This was perfect as I could study locally with the help and support of not only the tutors but also the library staff, as well as the vast amount of staff that help students from day-to-day which are all provided by WITT. Knowing I will be having all this support was the green light that lead me to enrol for the course and I can't wait to see how the years ahead progress.
Dean Botha
Architectural Technology