Te Henui Lodge - on-campus accommodation
Te Henui Lodge provides modern, spacious and secure apartment-style living and facilities with lodge managers living on-site. Common areas and facilities give you great opportunities to socialise or relax, with the option of independence and privacy within your own space if you need it offering great immersion language opportunities for international students wanting to practice their English language.
Located on campus, the lodge gives you convenient access to the library, Mātātoa Gym – an on-site gym with free membership for WITT Te Pūkenga students, basketball court, ping pong table, the 24/7 student lounge with computer access, free Wifi and all the attractions of the central city within easy walking distance.
Facilities at the lodge includes swipe card access, large commercial-standard kitchen, café style eating areas, TV room with large screen satellite TV, comfortable lounge areas, coin-operated washing machines and dryers and onsite student car parking. Security cameras are in operation.
Room facilities include ensuite bathroom - toilet, basin and shower, queen bed, fridge, wardrobe, study desk, central heating and all linen provided (bed sheets, pillows, bedding and towels).
Wifi is available at the lodge, but there is an additional fee for this.
---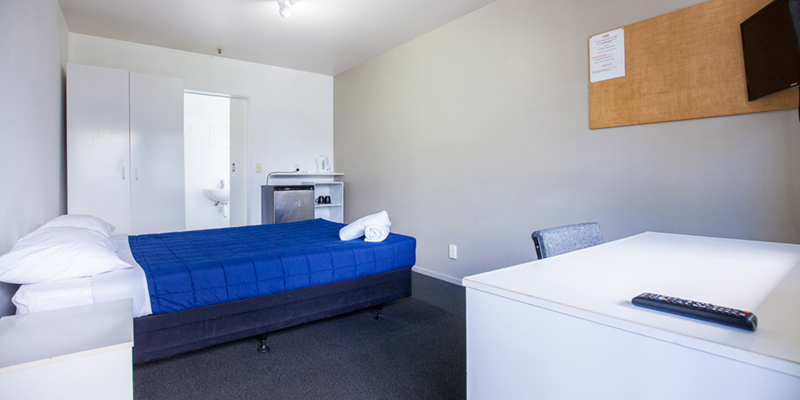 ---
Cost:
Single fully furnished rooms for WITT Te Pūkenga students are $230 per person per week. (Cost does not include food or Wifi).
On arrival, you are required to pay one week's rent in advance and be required to give 48 hours notice when moving out. Residents are to be 18 years or older. The lodge is not suitable for families.
WITT Te Pūkenga cannot guarantee that rooms at the on-campus lodge will be available. We strongly recommend that students apply for accommodation as soon as possible to ensure they do not miss out. For international students we recommend you make a booking prior to coming to New Zealand to secure a place.
How to book
Email your accommodation request to stay@tehenuilodge.co.nz.
You will receive an email acknowledgment of your reservation. To contact the Lodge Manager you can call on +64 6 758 0431.
International students
Would you like support with your application? If so please complete the International Student Arrival Form prior to your arrival date in New Zealand, and a Student Liaison and Pastoral Care staff member will contact you.
---
Backpackers accommodation
Backpacker accommodation options include Ariki Backpackers, and Ducks & Drakes Backpackers.
---
Rental accommodation (flatting)
Flatting is an option available to students, where you can rent anything from an apartment to a large house and garden. In a flat, you can have your own room or share it with others. Bathroom and kitchen facilities are shared. Rent is paid per room with all other expenses (food, power and Wifi) along with cooking and cleaning shared. Flats are usually unfurnished.
If you choose this type of accommodation, you will need to find your own rental property. Useful sites include Trade Me where most Kiwis go when they are looking for a place to rent on their own or with others. Facebook groups can be another good way to see who is looking for flatmates or call one of the local real estate agencies in New Plymouth.
Know your rights. We encourage you to familiarise yourself with Tenancy Services website that is designed for people who need to know the basics of New Zealand law relating to renting and tenancy. It is especially useful if you are renting for the first time.
Costs for flats in New Plymouth range from $200-250 a room per week.
---
Homestay accommodation - international students under 18 years
Homestay accommodation is when a student lives with a local family in the family's home. For international students, it offers a caring family living environment, which can ease the adjustment of living in a new country with different food, language, and customs.
Homestay accommodation is a requirement for international students under 18 years who are not living with their own families and is particularly suitable for students who are studying English language.
Homestay accommodation includes three meals each day, a private bedroom, bathroom (maybe shared), study and laundry facilities, bed linen and towels and Wifi. Homestay costs do not include personal items such as toothpaste, shampoo, and toiletries.
Homestay costs NZD$345 a week. If you are wanting Homestay accommodation complete the Under 18 International Student Accommodation Application. The form must be received at least two weeks before arrival.
---
Room in a private home - international students
We have families who welcome international students into their homes on a shared living arrangement.
This type of accommodation will have you living within a family home, with your own bedroom but responsible for buying your own food, and doing your own cooking and laundry.
Home provider accommodation includes:
Your own private furnished bedroom
access to kitchen and laundry facilities,
access to WIFI,
bed linen and towels (e.g. sheets and blankets),
Private or shared bathroom
All personal items such as toothpaste, shampoo and toiletries are not included.
$245 a week, including linen. Does not include food.
If you are wanting Home Provider accommodation complete the International Student Arrival Form. The form must be received at least two weeks before arrival.
---
General living expenses in New Plymouth
Prices listed below are approximate only.
| | |
| --- | --- |
| Food | $100-150 per week |
| Local bus fares | FREE to WITT students |
| Movies | $20 |
| Restaurant dinner | $20-$40 pp |
| Laundry | $6 per load for washing/$12 for drying |
| Internet | $80-100 per household |
Fees are quoted in New Zealand Dollars (NZD) unless stated otherwise