Delivered via block courses and supported distance learning. Available New Zealand wide.
NZIHT Te Pūkenga
This qualification is delivered in partnership with the NZIHT Te Pūkenga. You can find out more about their programmes and block courses on their website.
Entry Requirements
NCEA Level 2 including at least 12 credits in Maths, or
Equivalent knowledge, life skills, work experience or study
Career Options
Civil Engineering Technician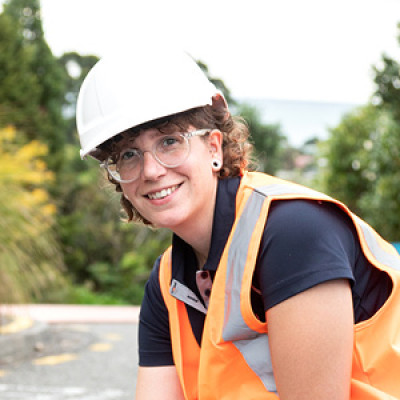 Studying the NZ Diploma Engineering (Civil) at Te Pūkenga has allowed me the option to blend in-person classes on campus with WITT, alongside block courses and supported distance learning with NZIHT, as I navigate part-time study and full-time work. I am fortunate enough to be able to earn and learn, bringing class-taught theoretical concepts to the real world as an Engineering Field Assistant. Changing careers in my 30s was daunting, and after my first maths class in 16 years, I wasn't sure I was cut out for study again; but the team of staff and tutors at Te Pūkenga, along with fellow engineering students, have been excellent at providing the support and guidance needed for me to succeed.
Laura Johnston
Civil Engineering