Literacy and numeracy is embedded in the delivery and content of the programme. (This qualification is also relevant to pre-apprenticeship programmes.)
It gives the graduate an understanding of the infrastructure works industry and the health, safety and environmental knowledge required to work safely on site and with others. These people will work under direct supervision.
Full time study option
Programme is delivered at WITT/Infrastructure park
Students to provide own steel cap work boots - all other gear provided.
Classes: Monday - Wednesday (9am - 4pm)
NZIHT Te Pūkenga
This qualification is delivered in partnership with the NZIHT Te Pūkenga. You can find out more about their programmes and block courses on their website.
Career Options
Entry level positions on a site in the civil construction industry.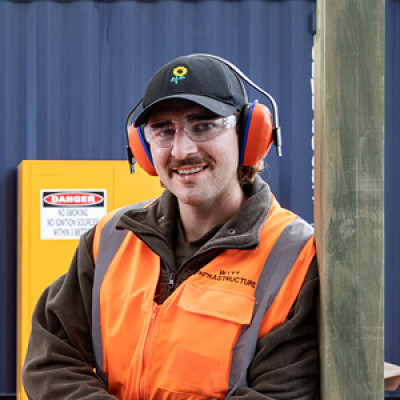 Completing the certificate gave me essential skills and knowledge to be able to confidently and comfortably step onto most civil construction sites and work safely. With the help of our awesome tutor my fellow students and I turned an empty patch of land into what is now the NZIHT Infrastructure Park. On our last week of the course all five students had multiple job offers in the industry and we were all working full time a fortnight after completing the course, myself being contracted to Port Taranaki through Whitaker Civil Engineering.
Robert Anglesey-Gray
NZ Certificate in Infrastructure Works (Level 2)
Further Study Options
This qualification provides a pathway to higher level study within the civil infrastructure and highway engineering industry.
Similar Programmes